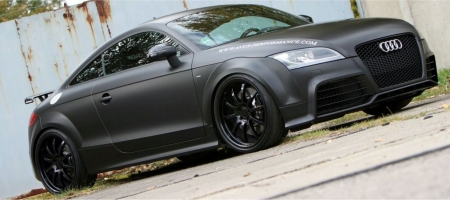 The Audi TT-RS package by Berlin-based AVUS Performance has officially been introduced taking the sports car a step forward improving the power and the looks of 2.5-liter five-cylinder hot hatch! The full kit includes adjustable coilovers, gloss black 20″ Sportec Mono wheels and modification of the turbo, ECU software and the exhaust system from turbo back with racing cats. They also gave it a name; the 'new Ur-Quattro'.
With a stock power of 340bhp and 450Nm of torque the TT-RS is capable of doing the 0-60 in 4.6 seconds. By increasing the figures to a stunning 460bhp and more than 639Nm of torque, you are able to reach 3.8 seconds on a sprint from 0-60mph and a top speed exceeding 194mph (312km/h). These figures are the highest we have seen so far. Sportec's stage 1 produces 400bhp, Mcchip will upgrade the ECU up to 380hp and ABT sells a package improving the horsepower up to 420hp, the same as the current MTM package. However MTM is preparing a stage 2 for the beginning of next year in which the turbo is replaced and higher numbers can be achieved.
The story doesn't stop with this HP-race. The matt black skin is something you will probably noticed first when say the picture of the AVUS TT-RS. However, other colors are avaliable on request. Also notice the Sportec wing on the back of the vehicle. It is uncertain if this is also a part of the package.
Prices for this package are known; the matt black "vinyl" – 1.999 Euro, coilovers – 1.299 Euro, gloss black 20″ wheels with 255/30/20 Hankook S1 Evo – 6.400 Euro and euromodified ECU + exhaust system – price on request.