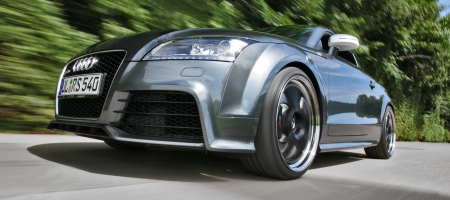 The Audi TT RS is the best you can get within the TT-range delivering 340hp and 450Nm of torque, but tuners think they can do better and have started the development of a more potent version. MCCHIP is one of those German tuners working on a upgrade kit. Their kits remaps the 2.5 TSI's ECU for a total output of 380hp and 550Nm of torque.
They also told Carscoop that they are preparing a Level 2 kit that will boost the five-cylinder engine's output to an astonishing 400hp. In addition to this upgrade you are able to get new 20-inch alloy wheels from Cargraphic wrapped in 255/30 R20 Continental rubber.
The price for the Level 1 ECU upgrade is €899 while the new wheels/tires will set you back at €6.600.