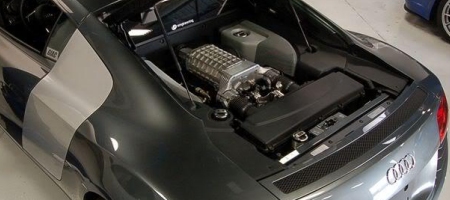 VF Engineering has developed a forced induction system for the 4.2 Liter FSI V8 engine inside the Audi R8 supercar. The changes include a supercharger pumping a mere 5 psi of boost into the combustion chamber, intercooler and ECU reflash from GIAC.
The current R8's output is raised from 420hp all the way up to 550hp, making the modified supercar more powerful than the upcoming Audi R8 V10 with its 525bhp. The weight difference between the two is only 75 pounds in favour of the V8-version. Keeping the supercharger and intercooler light enough is key in ensuring a positive power-to-weight ratio. The VF-engineering supercharged R8 is not the most extensive kit we have seen before. Some other supercharged R8's have passed by over the past few months.
Just to give us some inside of what the modification includes a promotional video was made by VF Engineering.
[Via TopSpeed]