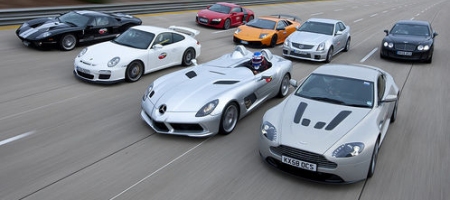 Not only Sport Auto magazine printed a high speed test in a magazine. Auto-Motor-und-Sport magazine held their yearly event and the results are available. The Italian highspeed circuit in Nardo was again the spot were nine supercars had to compete on top speed, lap time and a sprint from 0 to 300km/h.
The supercars that participated in the event were the Aston Martin V12 Vantage, Audi R8 V10, Bentley Continental Flying Spur Speed, Cadillac CTS-V, Ford GT, Lamborghini Murciélago SV, Mercedes SLR Stirling Moss and Porsche 911 GT3. This is a total of eight cars. Number 9 – a Nissan GT-R – blew up its engine after the first run.
The results show some nice figures. The Aston Martin was quite slow, we expected a higher top speed. All the other competitors fullfilled their tasks of being superfast. Especially the Lamborghini with its 340km/h top speed and SLR Stirling Moss with 338km/h wind hitting your head.
(From left to right: Name of the car, Sprint from 0 to 300km/h, Top speed and Lap time)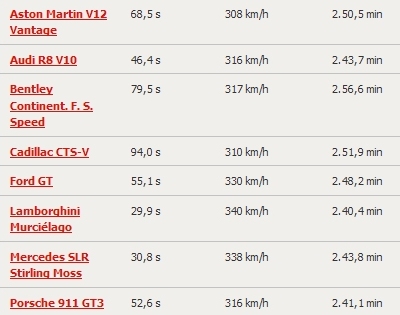 [Via Auto Motor und Sport]