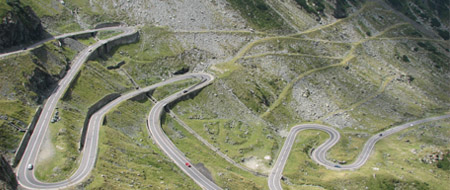 A few days ago we brought you news that Top Gear will be return on the 15th of November in High Definition and that they were currently filming in Romania. Today we have come across a fan video that shows the exotics that they were testing in the Romanian Mountains.
The scenic mountain road that they are driving along is the Transfăgărăşan or DN7C, and it is the highest and most dramatic paved road in Romania, situated in the Carpathian Mountains between its highest (Moldoveanu) and second highest (Negoiu) peaks. The Top Gear team seem to have got to this road just in time as it is usually closed between late October and late June because of snow.
As you can see in the videos below, James May has got himself the Lamborghini Gallardo LP560-4 Spyder, Richard Hammond has the Ferrari California and Jeremy Clarkson is driving the Aston Martin DBS Volante.
From taking a look in our archive of Top Gear episodes and in particular Episode 1 of Series 10, where they go looking for "the greatest driving road in the World",  we presume that this is them looking for the best driving road in Eastern Europe. One thing for sure, is we're looking forward to seeing the cars taking in this beautiful scenery in glorious HD when it airs later in the year.
[Via adrianpalahniuc, sibiuantena1 & kaymanul on Youtube]