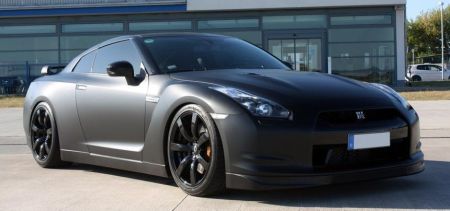 The Nissan GT-R must be one of the most popular cars for tuning companies. Abflug, Ventross and Hennessey are just a few in the line-up. Next is the Avus Performance GT-R Black Edition. In short: a performance boost and a matte black colour.
By installing a new motor management system the GT-R's engine produces 580bhp (+ 95bhp) together with 700Nm of torque (+ 112Nm). Besides the ECU change you'll get an adapted exhaust system, in which Avus removed the middle muffler to get a better sound.
If interested you can order your parts separately. The matte black sheet costs € 2.499, black tined wheels € 999, spacers € 349, lowered suspension € 1.299, exhaust system € 998 and the engine upgrade for € 1.899. Total cost for the package is € 7.993 ($ 11.816 – £ 7.188).
[Via Autoblog.nl]