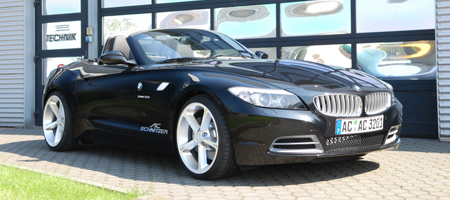 AC Schnitzer have just released info on their latest project, the E89 BMW Z4. It's been a little while since we heard from the German company so the Z4 will be a welcome return to the tuning world. AC Schnitzer have included both power and aero upgrades in this package.
As a base, AC Schnitzer have taken the range topping Z4 3.5i and added a few extra components. The engine see's a power hike courtesy of a sports exhaust and (we presume) an ECU re-configuring. The total figure is now 360bhp which means that 177mph (286kph) is now possible with the restrictors deleted. 0-100kph (62mph) is dealt with in 4.9 seconds thanks in-part to the weight reductions (It now weighs 1485kg).
A new spring kit sorts out the handling, making the car grip the road better and ultimately provide a more responsive drive. PU-Rim engineered body parts help the car in this respect too. A new front bumper, fenders and rear bootlid spoiler are evident from the pictures. As is the fender intake. The chrome front grille and front spoiler provide a sharp contrast to the bodywork.
The alloys are available in a choice of either Type IV in 18 inches or Type VI wheels in 18, 19 or 20 inches. Overall we think it's a nice kit… although we'd rather have the black one!
For more information on the kit contact AC Schnitzer through their website.