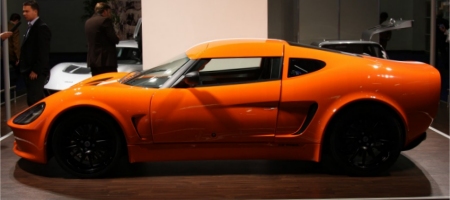 After exactly thirty years since the last of the 101 Melkus RS1000 Models was manufactured in Dresden, Melkus has presented their official follow-up the RS2000. The new light-weight sports car includes race-car technology. It is completely hand made and limited to only 25 vehicles per year.
The medium-sized engine sports coupe has a low power-to-weight ratio of 3.5kg/hp. The key feature of the double-wing doors, opening upwards to the roof, has been re-interpreted.
The RS2000 includes technical features such as a mechanical (supercharger) with charge-air cooling, a race-track-refined sports suspension system and forged light-metal wheel-rims. Driving aids such as anti-lock braking system (ABS) and traction control are, like driver and passenger airbags, standard. Comfort features pack integrated air conditioning, electric windows and rear-view mirror, as well as a boot with 220 litre storage space.
The interior can be personally designed. There is a choice of two-tone leather décor and the variation of sewing pattern.
The standard vehicle price is 107,500 euros. Production starts immediately after the IAA in October 2009.