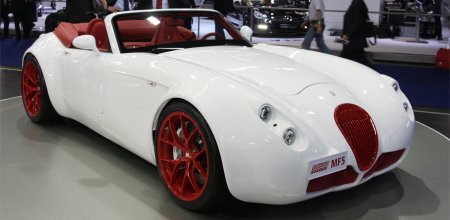 The German manufacturer Wiesmann has presented their latest member of the family – the Wiesmann Roadster MF5 – here at the IAA 2009. The roofless brother of the MF5 coupé delivers a top speed of 310km/h, low power-to-weight ratio of only 2.7 kg/hp and a sprint from 0 to 100km/h in 3,9 seconds. The MF5 Roadster will be limited to only 55 pieces.
Under the bonnet you will find a V10 engine with 507hp and 520Nm torque. Wiesmann outfitted the roadster with a rear wing and balanced suspension set-up. Sports bucket seats are available as an optional extra and positioned just ahead of the rear axle.
The overall setup of the MF5 Roadster didn't change much from the MF5. The only major difference is the roofless experience you will encounter. The fastest ever created by Wiesmann.
The Wiesmann Roadster MF5 is available from a basic price of 189,500 Euros.