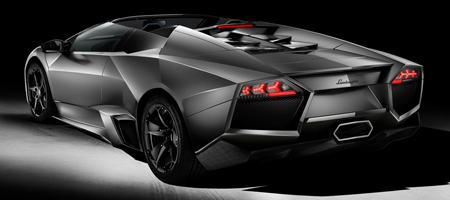 After the initial release and the first pictures yesterday it's time we had a look at the new Lamborghini Reventon Roadster ourselves.
It's been two years since the original Lamborghini Reventon was released at the IAA 2007. My first impression is that the Reventon Roadster looks exactly as you would a roadster version of the Reventon to look. The wow-factor is lower than with the release of the first Reventon but due to the limited number of cars build I'm sure this will remain intact on the streets. With only forty roadsters and normal Reventon's build combined there's a slim chance you will ever see more than one at the same place, unless you attend a Reventon meeting of course.
For 1.1 million euros excluding tax you can call one of the most exclusive convertible supercars in the world yours. It's hard to notice the slightly different paint color on the roadster compared to the hardtop Reventon.