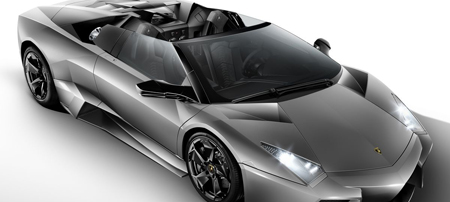 Lamborghini have released some new official photos and details of the new Lamborghini Reventón Roadster. Lamborghini say that 'less than 20 friends' will experience this uber-exclusive Reventón. At a price of 1.1 Million Euro though, you get the best that Lamborghini has to offer. Unlike the claims made about the Reventón Coupé, there's nothing to say that the Roadster has sold out yet!
Underneath we essentially have a strengthened Reventón. It measures 4700mm long, has a wheelbase of 2665mm, width of 2058mm, and a height of 1132mm. As a result of the Reventón's awesome stiffness, the Roadster weighs just 1690kg, only 25kg lighter than the Coupé.
The Roadster sports a slightly different shade of Reventón Grey which differentiates it from the Coupé. Underneath is the familiar 6.5 litre engine pumping out 670bhp at 8,000rpm and 660Nm of torque at just 6,000rpm. 0-100kph (62mph) in just 3.4 seconds is the result and a top speed of 330kph (205mph) is very respectable.
Anti-roll bars have had to be installed for safety purposes as has a third brake light. Naturally, the Reventon gains full options. We'll have more photos of the Reventón Roadster tomorrow.