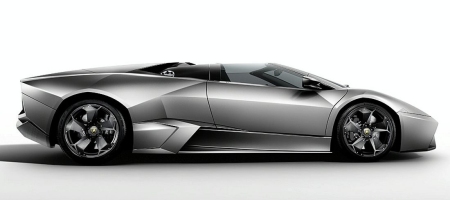 It looks like one of the most exclusive supercars is getting a roofless version pretty soon. The release of the Lamborghini Reventon Roadster was rumoured over the past few months and it looks like the IAA 2009 will be the venue where the brand new Lambo will show its face. As with its "closed" family member we will be on the front row covering the introduction of the supercar next week in Frankfurt.
The roadster – limited to only twenty pieces – is the second chapter in the Reventon story. Designed to be a roofless stealth fighter for the road, the Reventón has enough carbon fiber body panels to loose it on radar. You even get aggressive 18-inch wheels.
On the subject of the engine there is not a lot to say yet. The roadster will likely be powered by a 6.5-liter V12 engine with 650hp (478kW) and 660Nm (487 lb-ft) of torque. Top speed is rumoured to be 340km/h (211mph) and the acceleration from 0 to 100km/h will be in just 3.4 seconds.
Price? We expect a price of about 1.2 million Euros ($1,750,000 USD).