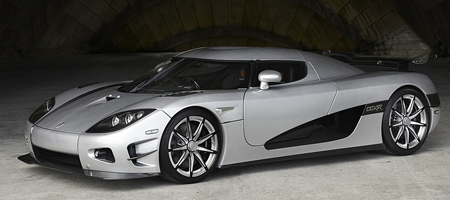 Today Koenigsegg have released details of there latest incarnation, the Koenigsegg Trevita. The Trevita is a limited edition Koenigsegg CCXR featuring a new shimmering diamond carbon fiber finish.
Koenigsegg's are famous worldwide for their visible carbon fiber weave finish, which up until now has only been available in the traditional black carbon fibre finish. But now Koenigsegg has developed a new Diamond Weave Finish, while still retaining the potential output of 1018bhp.
For the Trevita, Koenigsegg is using a new and unique method to manufacture the carbon fibre material called The Koenigsegg Proprietary Diamond Weave. This is where they have managed to coat the individual fibres with a diamond finish. This fiber treatment is conducted carefully in small quantities, prior to further processing the prepreg material. This process was fully developed by Koenigsegg at their headquarters in Ängelholm Sweden.
Only three Trevita's will be made by Koenigsegg, hence the name, making the Trevita the rarest member of the Koenigsegg Family.
All three cars will feature the Koenigsegg Shimmering Diamond Weave bodywork, double carbon rear wing, inconell exhaust system, carbon ceramic brakes (with ABS), airbags, paddle shift, chrono instrument cluster, infotainment system, tyre monitoring system and a lifting system.
[Via Teamspeed]