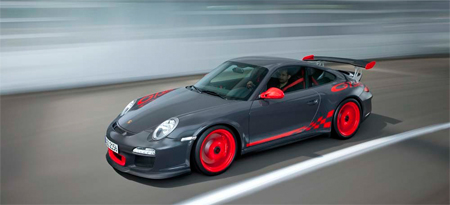 Porsche released their new 997 GT3 RS today, it's more than just a facelift. The new GT3 RS is based on the 3.8 liter engine also found in the new 997 GT3. The new RS promises to be lighter, stronger and better in every aspect to it's predecessor.
The naturally-aspired 3.8 litre six-cylinder in the new GT3 RS delivers 15hp more than the standard GT3, adding up to a total of 450hp. The engine is paired with a six-speed manual gearbox setup with a shorter transmission ratio, this allows for quicker acceleration through all the gears but as a drawback the top speed is reduced.
The new GT3 RS comes with a new and specially setup PASM suspension with a wider track both at the front as at the rear. To make space for this increased track the front wheel arches are a bit wider than on the GT3. The aerodynamics of the GT3 RS are further improved and supported by the very big carbon-fibre rear wing with wing supports made of aluminium and a lower ride height.
On the outside the new RS can be identified by the carbon-fibre wing, characteristic dual tailpipes on the extra-light titanium sports exhaust, as well as special front and rear parts exclusive to this model. The RS is placed on 19″ inch wheels, 9″ wide in the front, 12″ wide on the back. Optional is the replacement of the standard lead battery with a lithium-ion battery that saves an additional 10kg.
With the new 3.8 litre engine and the gearbox, weight and aerodynamics enhancements made by Porsche the new GT3 RS should have even better handling characteristics and lap times on every racetrack! Sales start from January 2010 at 122.400 euro without taxes.