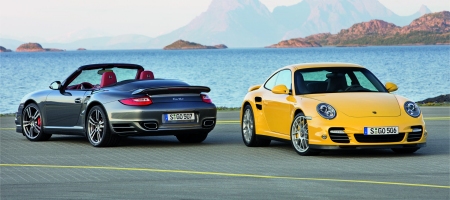 Porsche unveiled its latest addition to its line-up of sports cars: The new 2010 Porsche 911 Turbo. Porsche's key features of the Turbo are a substantial improvement in fuel efficiency and lower weight with more power, even higher speed, and enhanced driving dynamics. We also focus on the brand new 3.8 litres flat six from the Carrera S. Porsche's new top model will be presented to the public for the first time at the Frankfurt Motor Show starting within a month.
The brand new power unit – first in the 35-year-history of the Turbo – replaces the current twin-turbo 3.6-litre engine and deliveres a maximum output of 500bhp (368kW). Features like Direct Fuel Injection and turbocharger with variable turbine geometry are part of the engine. As an option, you can choose for the seven-speed PDK Doppelkupplungs- getriebe (Double-Clutch Gearbox). The acceleration to 100km/h is done in 3.4 seconds (0.3 seconds quicker than the current Tiptronic). Top speed is 312km/h or 194mph (2mph higher than the previous model).
Models equipped with PDK are also available with a new, optional three-spoke steering wheel with gearshift paddles as an alternative to the standard steering wheel with its proven shift buttons. Fitted firmly on the steering wheel, the right paddle is for shifting up, the left paddle for shifting down. In conjunction with the optional Sport Chrono Package Turbo both the gearshift paddle and the PDK steering wheel with its shift buttons come with integrated displays for Launch Control and the Sport/Sport Plus mode, which are however designed differently on the two steering wheels.
Sales of the new 2010 facelift – in both Coupé and Cabriolet – starts in Germany on 21 November 2009. The base price is 122,400 euro for the Coupé and 131,800 euro for the Cabriolet. This is excluding any tax or national specifications.