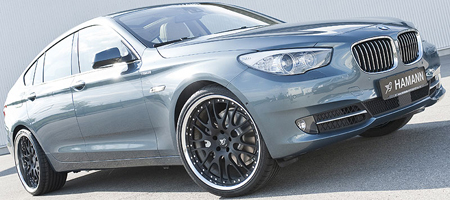 BMW's latest offering, the 5-Series GT, has barely been released let alone delivered to customers. Hamann don't appear to have realised this. Their latest offering appears to be modeled for the 5-Series GT. Along with a new set of alloys, there's a few extra Hamann badges on the car.
Aapart from the badges and the alloys, there doesn't appear to be any other changes. This makes us think that the GT is just being used as a model for a new set of wheels, Perhaps also hinting at what will be released in the near future.
Four different sets of wheels are shown on the car ranging from a polished silver look to a five-spoke silver look, a black multi-spoke wheel and another matte black riveted multi-spoke alloy. All look to be well finished and contain a sizeable lip to protect to central wheel from the effects of kirbing.
We look forward to Hamann showing us a fuller kit for the GT. We'll keep you updated!