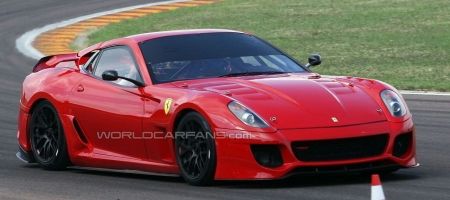 The Ferrari 599 XX is getting closer to its official production status and a place on the public roads. WorldCarFans photographers spotted the supercar on the Italian car maker's own Fiorano test track and stated Ferrari is planning to release a street-legal version. Differences are hardly noticeable, but the concept version unveiled at the 2009 Geneva auto show had different air inlets and outlets as well as the rear wing.
The 'normal' 599 laps Fiorano in 1 minute and 26 seconds, the 599 XX does it in 1 minute and 17 seconds. The 9 seconds is quite a difference and achieved using F1 derived technologies such as a High Performance Dynamic Concept and highly advanced aerodynamics. Ferrari implemented Actiflow providing down force on the 599 XX at the rate of 280kg at 200km/h and 630kg at 300km/h. The maximum horsepower coming out of the engine is 700hp, the top-revs are 9000 rpm.
We hope to see a production version soon. The 599 XX will then be one of the top performers inside the Ferrari family.