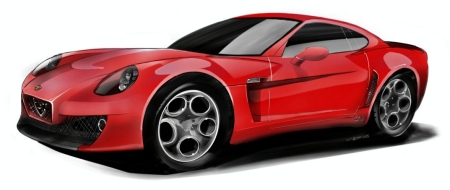 The latest member in the world of supercars is the SV Motor Company with its new SV 9 Competizione. Designed as a mix between American performance and Italian style, the Corvette C6-based model is build up around a carbon fiber body resembling Alfa Romeo's 8C Competizione. But that is not all. The new carmaker or shall we say 'tuner' added more to the car then just a different body.
The front end is the biggest change with the mesh grillwork designed to capture maximum air while the vents on the hood and rear ducts keep the engine bay temperatures down and brakes cool. The rear end got an Italian treatment as well with the Corvette's dual brake lights converted from two per side to just one giving it the 8C-look and the exhaust ports are split to each side.
The weight dropped by 132 pounds to just 3085lbs and provides a 50/50 front to rear weight distribution. Under the hood SVMC changed Corvette's LS3 436 horses up to 450 and 445lbft of torque by changing the intake and a custom-tuned exhaust. The ANSA Automotive exhaust system is based from their designs used on the Ferrari Daytona and 599. SVMC estimates that the enhancements will propel the SV 9 Competizione to a 0-60 mph time of 4.0 seconds and 12.0 in the quarter mile.
The interior got a special treatment as well. The 9 C gets carbon fiber reinforced seating upholstered in hand-tooled Italian leather. Owners can chooser burlwood, carbon fiber or leather finished steering wheels that are custom matched to the instrument panel and console.
As an extra you can get 25 different exterior colors – 18 standard and 7 special edition colors. Four wheel choices and five interior trim choices are available. The SV 9 Competizione will be limited to only 1000 units at a total cost of 99,995 dollars.
[Via Corvetteblogger.com]