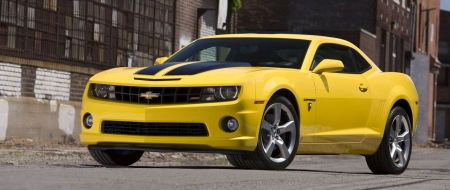 Fans of the new Camaro and the Transformers movies have finally got their ultimate muscle car; the Chevrolet Camaro Transformers Special Edition. The 'BUMBLEBEE' Camaro was announced at Comic-Con in San Diego and sports features such as an EPA-rated 29 highway mpg, Bluetooth phone connectivity, USB connectivity, XM Satellite Radio, OnStar and Transformers design extras.
The V6-powered Camaro uses a 3.6L engine producing 304hp (227kW) and 273lb.-ft. of torque (370Nm). A six-speed manual transmission is standard. The high-performance Camaro SS is equipped with a powerful 6.2L V8, delivering 426hp(318kW) and 420lb.-ft. of torque (569Nm). The third and latest engine available is the LL99 V8 engine used on automatic transmission-equipped SS models. It will reach 400hp (298kW) and 410lb.-ft. of torque (556Nm).
The 2010 Chevrolet Camaro Transformers Special Edition includes the following extras; Autobot shield on the driver and passenger side panels, Autobot shield on each of the four wheel's center cap, Autobot shield embroidered on interior center console, Transformers logo on driver and passenger doors' sill plates, Transformers logo embedded into the hood rally stripes and a high-gloss black center rally stripe package.
The manufacturer's suggested retail price of the package is $995. You can order the special edition muscle car as either a Rally Yellow LT or SS model. Megan Fox is not included as standard nor option…