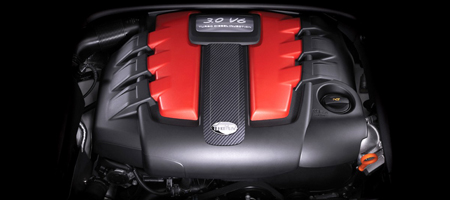 Having turned their hand to every Porsche currently on the market, German Porsche tuner Techart have produced their first ever package for the Cayenne Diesel. The press release only mentions a new bodykit for the car, however we're hearing that the engine has been given a work-over as well!
Power is up from the standard car's 240bhp to 290bhp and torque from 550Nm to 630Nm at 2,200 rpm. This is known as the Techart TA 055/D1 power kit and is being offered from UK based Tech9 Motorsport at a price of £2,500 (€2,892).
The new kit re-arranges the car's somewhat, allowing the Techart car to achieve a 0-60mph time of 7.7 seconds. The reason for Porsche's introduction of this vehicle was to offer a more fuel efficient version of the Cayenne. Techart have taken note and CO2 emissions remain unchanged at 244 g/km with fuel consumption at a respectable 30.4 mpg.
The Aerokit, known as Aerokit 1, features some special upgrades for the Cayenne Diesel to make it stand out from the rest of the Techart range. There's a new front spoiler, sill panels, rear apron and roof spoiler. As well as small cosmetic upgrades to the headlight and tail lamp trims.
No tuned Cayenne would be complete without new alloy wheels. Techart Formula I and II alloys are available in sizes 22inch and 21inch and both are wrapped in Continental Tires.
Also added to the package are a double oval exhaust pipe and air suspension package. Inside, a new Techart 3-spoke steering wheel, a set of door entry guards and aluminium pedals and foot rests finish off the Aerokit 1 kit.
Again, Tech9 are offering this package for £53,000 (€61,351) ready applied to a Diesel Cayenne or £55,500 (€64,245) including the power kit. We've also heard that owners can specify an engine styling pack which includes a carbon fibre engine cover with red embellishments and a metalised TECHART logo.