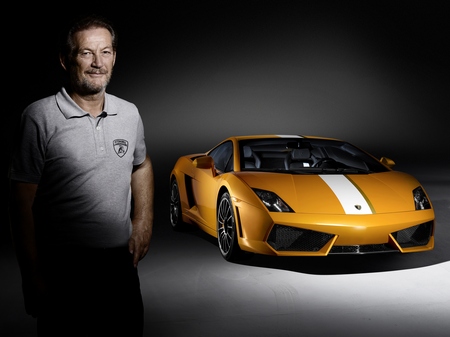 It seems all our speculations of the past few days have been more or less spot-on! Lamborghini released the first official information about the LP550-2 Valentino Balboni Edition today. It seems the images we saw yesterday were the same ones that Lamborghini were to use as the official pictures leading us to believe that the pictures were leaked.
We don't remember ever having a special edition Lamborghini named after a person, however in this case it seems perfectly fitting. The LP550-2 will do away with the 4WD of the LP560-4 making it a more driver focused car in the process. Balboni himself is a legendary Lamborghini test driver, putting the two ideas together seems highly logical to us.
As we've said before the LP550-2 will be built in a limited production run of 250 units costing €162.000 (£137,900 or $219,800) essentially undercutting the LP560-4 and making the LP550-2 the budget Lamborghini option.
Springs, dampers, stabilisers and even the tyres were tweaked to maximise the driving dynamics as well as the Aerodynamics. The 5.2 litre V10 does feature 550bhp and 100kph (62mph) is reached in just 3.9 seconds. 320kph (199mph) is the top speed.
Weight is kept down to 1,380kg, again, a correctly prodicted 30kg less than the LP560's 1,410kg.
The car will also be available in both E-Gear (semi-automatic) and with a standard 6-speed Manual.
PRESS RELEASES
30/06/2009 Lamborghini Gallardo LP 550-2 Valentino Balboni – Driving fun with absolute precision

He has long been revered as one of the many legends surrounding the world's most uncompromising sports car brand – Valentino Balboni, a remarkable test driver with his own personal cult status. Automobili Lamborghini now presents a model in his honour and bearing his name – the Gallardo LP 550-2 Valentino Balboni.

The latest version of the Gallardo, Lamborghini's most successful model of all time – overall, more than 9,000 units of the model range have already been produced – boasts not only its own distinctive design and exclusive equipment, but its technology is unique too, as indicated by the model badge: the 550 stands for the power output in hp and the 2 is for rear wheel drive.

For several decades, Valentino Balboni has had a distinct influence on the character of the super sports car bearing the sign of the bull. With his fine-tuning and testing work, he has helped to shape many automotive legends, from the Lamborghini Miura of the 60s through to the current Gallardo and Murciélago models. Balboni was hired in 1967 by company founder Ferruccio Lamborghini himself. From early on, it was evident that the young Balboni had a special feel for cars, that most sensitive of all instincts that connects to the 'life blood' of an automobile and defines the soul of a test driver.

"A Lamborghini must always combine the precision of a race car with the reliability of a good friend,