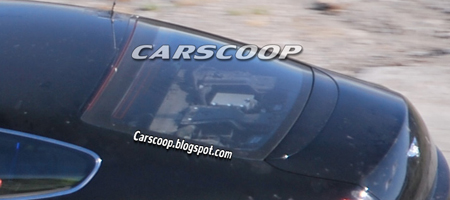 Thanks to the inquisitive nature of our friends over at FastestCar.com we ca bring you the offical line on what we though was a Bentley hybrid spotted in Spain last week. A Bentley official stated that the car was standard and only had the rear parcel shelf missing, exposing electronic control units that are normally covered by trim.
They conceded that the car was a company test car, however they denied that it was testing a hybrid drivetrain. As part of a continuous testing program on the current Continental range, the car was simply testing small updates and improvements for their marketability on the car.
Having suggested that these were improvements to the car, the company then stated that a facelift was not being implied and that the car simply had the rear parcel shelf missing.
The final question to ask was whether Bentley were infact working on a hybrid, even if this car was not it. To this question the Bentley official referred us to an earlier press statement about Bentley's current environmental strategy. All cars are to be capable of utilizing a flex fuel status by 2012. This implied that Bentley were not working on a Hybrid drive train and instead were to be focusing on this goal until 2012.
So, we're now working on the assumption that there's no Bentley Hybrid in the works and that the company will only look into the possibility of one after their 2012 goal has been completed. With all the talk of hybrid systems from the leading manufacturers, it may be too much for Bentley to resist though. We suspect that something is still going on behind closed doors at Bentley headquarters. Our money is on a Diesel engine to join the line-up!
Thanks to Andrus for the tip!