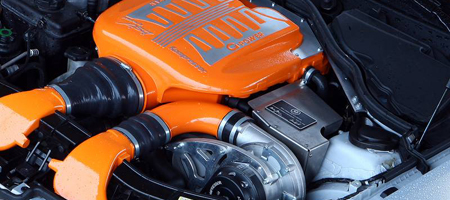 G-Power have come out with some simply amazing products recently. Their M6 Hurricane is apparently the fastest BMW Coupe ever, boasting 750bhp and and their Hurricane RS, based on the M5, is officially the fastest sedan for sale. They've added to their line up as well to include some tasty new modifications for the E92 M3 in the form of a new Supercharger bringing power outputs up to 500bhp.
The small German company celebrated it's 25th year of business back in 2008 and this year it aims at building on the successes of it's earlier years. The new kit could be considered mild in respect of the high horsepower figures that have come from previous models. The boost on the new supercharger runs at 0.3 bar which is less than half that of the Hurricane RS. Yet on relatively low boost, the supercharger manages a gain of 80bhp over the standard cars 420bhp. The same can be said for the torque levels having reached 480Nm from the standard cars 400Nm.
This new, almost minimalist approach, from G-Power has apparently been accompanied by many hours of testing. The modifications have seen action in the deserts of the United Arab Emirates as well as more standard testing by G-Power test drivers. Presumably this helped them with the decision to fit a new high-flow air box and inter cooler kit. They work together to ensure that the engine and supercharger always stay cool, even in the hottest of conditions.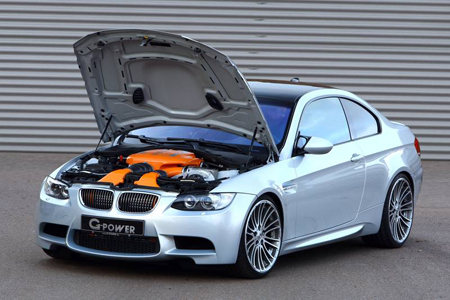 De-restriction is recommended as well as the 20 inch G-Power Silverstone wheels and the Michelin Pilot Sport tires we see on this car. This allows a top speed of 320kph (199mph) to be achieved safety and provides a higher level of grip delivered at every corner. G-Power coil-over suspension is also available to be fitted to the car to complete the look and overall package.
Inside there's the usual 'tuner spec' of uprated dials with G-Power emblems, carbon fiber inlays, new aluminium pedal set and a tailor-made leather interior. Each car is individually documented and a specific serial number is displayed on both the interior and the supercharger itself.
[Via G-Power]