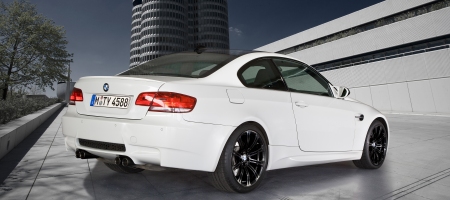 The BMW M3 E92 hasn't been around that long, but the German carmanufacturer decided to introduce a package called Edition Models focussed on the highlights of the car. Based on the M3 Coupé, the M3 Edition Models offer a choice of four individual cars with modifications regarding the body design, interior, lower chassis and special light-alloy wheels.
On the Edition Models the exterior paintwork and interior design are individually matched to one another. Depending on the respective Edition model, the body comes either in Alpine White Non-Metallic, Black Non-Metallic, Dakar Yellow Non-Metallic or Monte Carlo Blue Metallic. These colors are combined with BMW Individual High-Gloss Satin Chrome.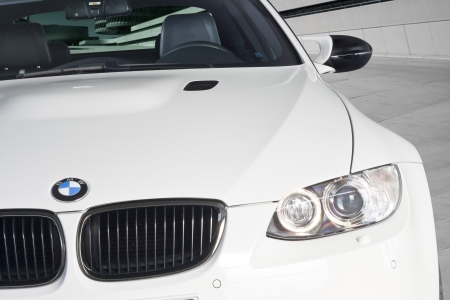 On the bonnet you will find two openings. Those are finished in black as are the kidney grille, the side gills and the dual tailpipes on the exhaust system. The same can be said about the caps on the M exterior mirrors. The caps are connected to the A-pillars by dual arms finished in body colour giving it a nice dual-tone setting.
As on the outside the inside got several extras. The surfaces on the centre armrest, the centre console and the armrests on the door panels are finished in White on the Alpine White and Black models. At the same time the interior trim is made of carbon structure leather with white contrasting seams. The seats in Black Novillo Leather feature bespoke contrasting seams as well as vertical trim stripes on the upper section of the backrest and at the front of the legrest. On the Alpine White and Black models, these features come in white, on the Dakar Yellow and Monte Carlo Blue models they are in the appropriate exterior colour.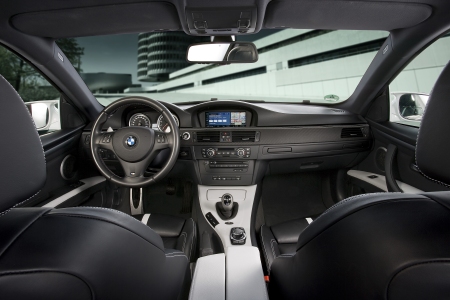 To optimise the looks of the car, all four Edition Models come with light-alloy rims and a lowered suspension: On all models the 19-inch forged M light-alloy rims in double-spoke design are available either in black or in the classic rim colour. And on the Alpine White, Black and Monte Carlo Blue models, the same rims are also available in a special white contrasting colour with polished spokes.
The suspension of the BMW M3 Edition Models adds to the sporting style of the cars, lowering the entire body by 10 millimetres or 0.4".
Regarding the drive train nothing has really changed. The M3 still has its V8 high-speed power unit developing a maximum output of 309kW/420hp. The power is transmitted the rear wheels either through the six-speed manual gearbox or M double-clutch gearbox with Drivelogic. In this case acceleration to 100 km/h comes in 4.6 seconds (six-speed manual: 4.8 seconds).
The new Edition Models will be available worldwide from July 2009 in Alpine White, Black, Dakar Yellow, and Monte Carlo Blue. The packages will only be available for a limited period of six months.