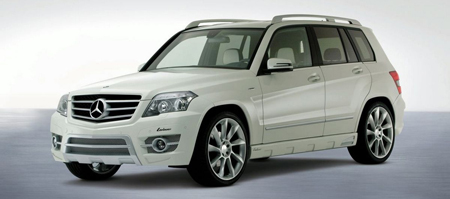 German tuning company Lorinser has released some fresh information on it's upgrades for the Mercedes GLK. The GLK has never been what we'd call a 'pretty' car, it's cartoon-esque proportions make it look awkward and boxy. Lorinser have added their touch to the car in an attempt to correct some of these issues.
Firstly, theres no news on engine upgrades at the moment so were stuck talking about the body enhancement's. Secondly, the company claim this to be an 'all or nothing' car with the best of both worlds, off-road performance coupled with the visual effect and performance of a road car.
The engineers wanted to give the car a butch, muscular look to give the car real presence on the road and off it. The new Lorinser front bumper with fog lamps, side sills and rear bumper are all desined with this in mind. The new alloys and quad exhausts are also evident.
Were not really sure about it in all honesty. White doesn't really do the GLK any favours in terms of styling. One positive thing we can say is that it's very much a discrete piece of tuning, much like some of the other Lorinser kit we've shown previously. It's a Marmite car, you either love it or you hate it!
[Via WorldCarFans]