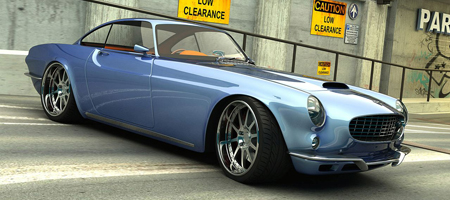 Mattias Vöx is a petrol head through and through. As if his work at Swedish hypercar company Koenigsegg wasn't proof enough, these stunning pictures reveal his eye for the other Swedish company, Volvo. It's not his first Volvo based project either, he's reworked show stopping Volvo Amazon's before as well.
Vöx has a natural passion for Volvo, so much so that he plans to take a classic Volvo P1800 and bring it up to modern standards. He is producing the car in co-operation with the Swedish design firm Vizualtech who have already been busy changing the shape of the car to accomodate some of the new technology.
A wheel base extension is one such change, an extra 70mm will be added alongside larger wheel arches to allow for modern tires. Other design changes will be necessary to bring the car up to date including greater air flow and a rear diffuser.
The Volvo V8 from the XC90 will produce the power to the tune of 600bhp via a new turbocharger. A six-speed manual gearbox will be used instead of a modern semi-automatic style box.
It's expected to be shown at one of the major motorshows this year as work has good underway already. We suspect it will probably be shown at SEMA in November.
[Via WorldCarFans]