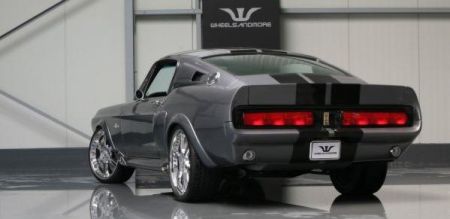 American tuner Wheelsandmore is known for taking modern cars into their shop. Their next project is a bit different, upgrading a movie legend, the Ford Mustang Shelby GT500 Eleanor from "Gone in 60 seconds". Luckily they did not touch the outside, besides the wheels (20 inchers), because the chance you would ruin a car like this is rather big. On the other hand the interior got freshed up with new leather seats, dashboard and alcantara roof.
PRESS RELEASE:
ELEANOR: Gone in 60 seconds and a lifetime legend
Customizing exclusive and exotic cars is one of the specialities from german tuner and wheel-manufactur Wheelsandmore, located in Baesweiler near Aachen.
It seems that the crew added their current wheel 6Sporz perfectly to the legendary Ford Mustang Shelby GT500.
In fact, it´s a totally customized Ford Mustang S-Code Fastback, built in 1967, having a 5,7L Ford V8-engine with a Shelby GT 500 Bodykit.
To retain most of the 350 horsepower, Wheelsandmore optimized the weight of their forged 20" rims by using FEM-analysis and took stainless steel outside rims of the highest quality.
By finishing those high-end-wheels with titanium screws the weight depends about 24 lbs .
On the front axle they took a 9,0×20" with 235/30/20 and on the rear axle 10,5×20 with 275/30/20 Pirelli PZero Nero.
Outside the car should look similar to the original Eleanor look within the original lacquering.
Inside the car modern and classic parts should be combinated and the professionals did well by designing single frame parts.
All seats were covered with new leather and the ceiling was coated with high class Alcantara
The dashfront is made of a few cnc drilled aluminium plates and fits perfectly to the the new leather covered dashboard, which is equipped with new Autometer car instruments and the interieur is completed with a massive Tilton pedal set.
The suspension is a special mixture with Koni shock absorbers and a special spring set at the front axle.
[via Autoblog.nl]