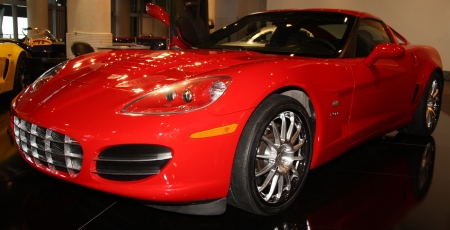 At Top Marques Monaco INNOTECH showed us their Corvette line-up, available from the beginning of this year. The modified C6 Corvette coupe and convertible are made for sports car enthusiasts seeking a different body styling and performance in their USA sport car.
Compared to a stock C6 Corvette Coupe or Convertible, the Czech tuner added a new front and rear fascia, rear window side louvers. All these Innotech body parts are made in fibreglass or carbon fibre. Corvette interior upgrades include Italian or English leather and optional carbon fibre seats with leather upholstery.
During 2009 Innotech will create an Innotech C6 Speedster, as well as customized Innotech C6 Z06 and ZR1 versions. The cars will be assembled in the USA. Modified Corvette parts as well as complete cars will be delivered worldwide. USA will be the main market for Czech tuner.
The following upgrades are available for the Corvette (2005-2009 models):
Brakes: BAER or Brembo 14″ (355mm) or 15″ (380mm) ventilated, drilled and slotted rotors, 4 or 6 piston calipers.
Wheels: forged aluminium 9×19″ front and 12×20″ rear, HRE or Forgeline (also with optional center lock hub), offered in several wheel designs. Dymag carbon-magnesium wheels are an option.
Exhaust systems: modified headers, mufflers and tips for better flow, sound and appearance.
Engines and transmissions: LS2 (6.0L) or LS3 (6.2L), performance modified to 500 hp – 560 hp if naturally aspirated, or 600 hp – 1000 hp supercharged or twin-turbocharged. The engines are mated with Corvette 6-speed manual or automatic transmissions.