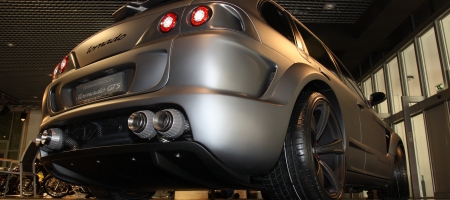 After we spotted the SUV driving around in Monaco, we found it back the next day at the Gemballa stand. The limited edition Tornado Cayenne GTS/GTR will be available in two different versions and three different tuning packages. Inspired by the Carrera GT only fifty will be made.
The complete set includes five-spoke alloy wheels, a new carbon hood with special intakes, larger air intakes in the front apron, new taillights and integrated diffuser. The interior consists of four separate Recaro seats, a panoramic sunroof and center console Carrera GT-style.
The difference between the GTR- and GTS-trim is the removal of luxury items and the conversion to a rear-wheel drive in case of the GTR. A weight saving of almost 250kg is achieved.
Next to these two verions there are three tuning packages available. Gemballa lets you choose for 542, 641 or 740hp. To achieve this modifications like new intercoolers, high-flow exhaust system and an ECU upgrade are available.