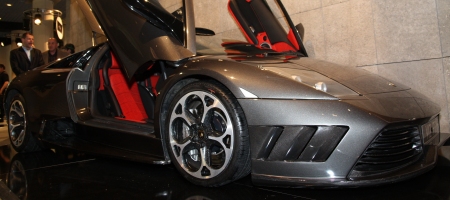 Prindiville Prestige is an UK-based tuner which specialises in creating one-offs. At the Top Marques Monaco they showed us their latest creation the Prindiville Murciélago LP640. Numerous changes were added to the Italian supercar. Only the front compartment was kept the same.
There is a bolder, more assertive front valance, eye-catching sills, more dynamic rear valance through which exits a specially designed titanium sports exhaust system, 'handle-less' doors with remote electric opening, and a restyled engine bay cover with transparent cooling louvers. All of the body panels are in exquisitely finished carbon fibre. The interior is enhanced by the use leather and hand-finished aluminium accents. But there are also 'little touches' that reveal the depth of our attention to detail.
You can choose whatever entertainment and communications systems you desire. An example is the camera system. Installed in each of the door mirrors, miniature cameras feed images to a monitor in the cabin, helping owners to protect the sills and alloy wheels of the car when parking next to high kerbs; a rear valance-mounted camera is also part of the system.