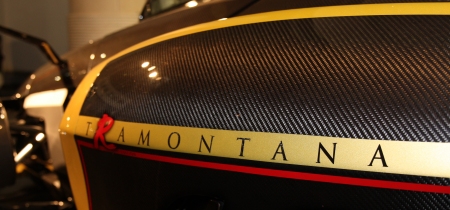 Developed to enhance the driver's sensation by decreasing the weight of the car with 92gram, the R-version of the Tramontana, a car build by the Catalan brand, is really something special. The production version is on display at the 2009 Top Marques in Monaco.
The spanish manufacturer installed a different traction control and power steering systems. The front and back spoilers were swapped for new ones together with the front splitter. The body has new air valves and within the car you will find a new steering wheel and gages.
The stunning performance brings you from 0 to 100km/h in 3,6 seconds and 0 to 200 in 10,15 seconds. The limited top speed limited is 325km/h. In the back you will find a bi-turbo V12 engine that produces at least 550bhp. If just push one button, you will skyrocket up to at least 720bhp.