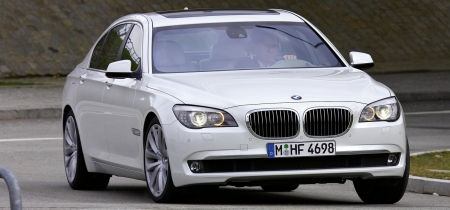 The release of the BMW X6 M was expected. Something you cannot say about the new surprising preview of the 760i and 760Li. Both were rumoured over the past period and will debut at the Shanghai Auto Show next week along with the the new BMW X5 M. The BMW 7-Series flagships reflect luxury and exclusivity.
The heart consists of a 6.0-litre twelvecylinder power unit – a completely new engine developed from the ground up. The power of 400 kW/544 hp comes at an engine speed of 5,250rpm, with maximum torque of 750Nm (553lb-ft) from just 1,500rpm. But that is not all. The engine is equipped with TwinPower Turbo Technology, High Precision Injection with fuel injected directly into the combustion chambers, and to BMW's double-VANOS camshaft adjustment as well as the eight-speed automatic transmission featured for the first time in a BMW. Acceleration to 100 km/h comes in just 4.6 seconds.
The main difference between the two is the extended wheelbase of the new 760Li by 14 centimetres or 5.5″ for particular comfort – if not to say, luxury – at the rear. The Li-version also features air suspension including self-levelling on the rear axle. As an option both models are available with Integral Active Steering offering speed-related adjustment of the steering angle on the rear wheels. BMW 760i and 760Li will be offered in both rear-wheel-drive but also all-wheel-drive.
Both cars are packed with the latest features like Lane Change Warning, Lane Departure Warning, Active Cruise Control with Stop-&-Go function, BMW Night Vision with detection of individual persons, a Head-Up Display, a back-up camera and the Side View system, High-Beam Assistant and Adaptive Headlights including Bending Lights.
Changes in the exterior design distinguish a 760 from the other 7-Series. The kidney grille for the radiator has an extra-wide chrome frame in slightly concave design. From the side, the 19-inch light-alloy wheels are only available on these two models. Chrome-plated gills with integrated side direction indicators and V12 model designation and an additional chrome bar at the rear complete the picture.
Inside the BMW 760i and the BMW 760Li you will get Stainless-steel door entry trims with illuminated V12 cover, an instrument panel finished in nappa leather, roof lining and sun visors in alcantara and burr walnut wood trim.