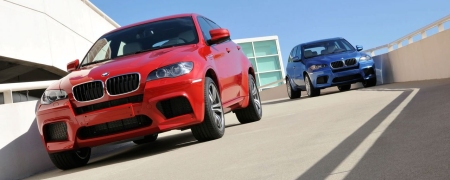 As we have seen before BMW is working on M-versions of the X6 and X5. Both will debut at the New York Motor Show. BMW previewed the first all-wheel-drive M-models before the opening of the event and indicated details like engine size, power output, option list and the new styling.
The X-models are powered by a newly-developed 4.4-liter V8 M engine delivering 555hp at 6,000rpm and 500lb-ft of torque from 1500 to 5,650rpm. Acceleration to 100kmh from a standstill is reached in 4.5 seconds. BMW's Dynamic Performance Control is presented for the first time in the BMW X6 and is now featured in the BMW X5 M and the BMW X6 M. Topspeed is limited to 250kmh. The M-package ensures a topspeed of 275 kmh.
The hood, front air dam and headlights are almost identical on the BMW X5 M and X6 M. Both models feature special gills in the front fenders, as well as model- specific 20-inch light-alloy wheels. The tyres are runflat types with sizes 275/40 R 20 at the front and 315/35 R 20 at the rear.