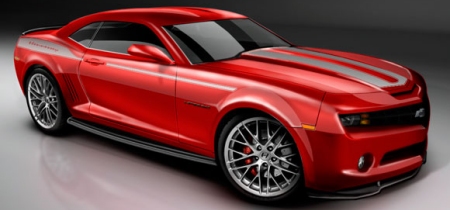 Hennessey Performance Engineering is known for their extreme performance sports cars and muscle cars. They have announced their latest family member – the Limited Edition 2010 HPE550 Camaro. The newly car fills the gap between the standard SS and Henessey's own 705-hp Camaro HPE700.
HPE added a supercharger system to the LS3 V8 and a Corsa exhaust system. This upgrade results in 562bhp and 557lb-ft torque starting at 4,200rpm. A sprint from 0 to 60mph takes 3,9 seconds. 1,1 seconds less than the standard model.
Rounding out the package, HPE adds a set of light weight 20 inch wheels, cam-aero body upgrades include: rear lip spoiler, carbon side rocker panels and front splitter, graphics package and premium floor mats. Other options include: larger brakes, suspension upgrades, upgraded interiors along with larger wheels and tires.
Each HPE550 will come with its own unique serial number which will be displayed on a plaque located on the dash and under the hood. Buyers will even get a 1/2-day performance driving course at Lonestar Motorsports Park. Production will begin in May, only 500 units will be made.
[Via AutoBlog.com]