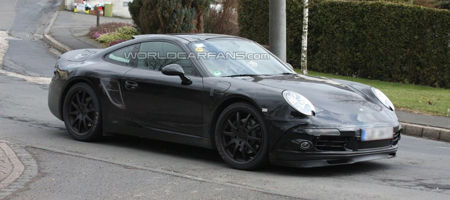 After the unfortunate accident we reported on last month involving the Porsche 998 Cabriolet prototype, Porsche look to have continued the testing of the future 998 coupe. Whilst Porsche still have the Turbo, GT3 and GT2 varients of their 997 series 911 to facelift, work has began on it's successor and these early pictures indicate a couple of changes to the cars design.
The most evident change from these pictures is the introduction of a retractable roof spoiler, not unlike those we see on the Techart tuned versions. There's also a large amount of camo on the back of the car around the spoiler, the likely explanation for this is proabably the need to let the standard retractable spoiler to pop-up, although it does seem a little strange to us that Porsche want to keep this a secret.
Other than this there is little to tell from the pictures, we don't expect there to be too much of a difference either when it comes to releasing the 998. The car looks bigger in proportion as well and has had to receive some cosmetic tweaks to the front bodywork to comply with tougher safety regulations. We're not sure wether the air channels on the front spoiler are there to stay either, and our guess is that when the car is eventually released (in 2011) Porsche will have fitted real air intakes on the side instead of the stickers we see here!
Underneath we expect there to be a power hike across the range of falt-six engines alongside a choice of either Porsche's PDK Seven-Speed automatic gearbox and a more conventional 6-speed manual unit. The car was spotted at Porsche's Scandinavian test track.
[Via WorldCarFans]