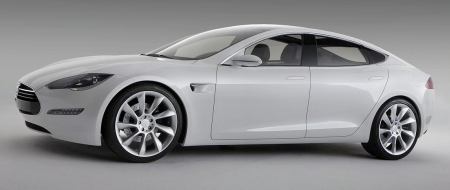 The US automaker Tesla has unveiled their latest member of their family. The new Model S Sedan is the first mass-produced, highway-capable electric vehicle in the world. With a base price of $49,900, up to 300-mile range and 45 minute quickcharge capability you are able to have a new way of travelling.
The Model S is an all electric family sedan that carries seven people – five adults and two children. Recharging takes up to 45 minutes. The floor-mounted battery pack is designed to be changed out in less time than it takes to fill a gas tank, allowing for the possibility of battery-pack swap stations. Three battery pack choices will be offered: 160, 230 or 300 miles per charge.
The standard Model S does 0-60 mph in under six seconds and will have an electronically limited top speed of 130mph, with sport versions expected to achieve 0-60 mph acceleration well below five seconds. A 17-inch touchscreen with in-car 3G connectivity allows passengers to listen to streaming radio or consult Google Maps.
Tesla is taking reservations online and at showrooms in California. Tesla will open a store in Chicago this spring and plans to open stores in London, New York, Miami, Seattle, Washington DC and Munich later this year. They expect to start the Model S production in late 2011.