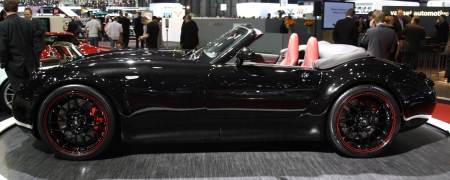 All eyes of the automobile world were pointed on Geneva. Those eyes spotted a new member within the Wiesmann family; the Wiesmann Roadster MF4. It is the latest addition to the range of soft-top sports cars and is available alongside the classic Wiesmann Roadster MF3.
There are two engines available for MF4 Roadster. The first is a 4.8-litre BMW V8 that produces 367hp (270kW) and 490Nm of torque and secondly a 420hp (309kW) 4.0-litre V8 found inside the BMW M3.
The maximum torque is 400Nm which catapultes you from 0 to 100 km/h in no less than 4.4 seconds, up to a maximum speed of 300 km/h (186 mph). Not only in terms of the engine but also the transmission Wiesmann offers two configurations, a manual and sport automatic unit plus a 7-speed double clutch system exclusively available for the 420hp version.
The German manufacturer stated it is the first time ever they are offering two different engine configurations for one single model.