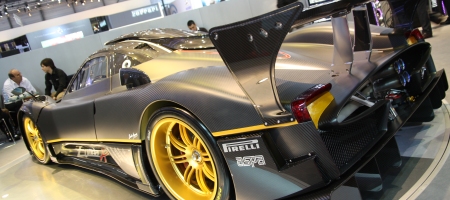 The Pagani team has created the Zonda R because of the needs of their track-focused customers. The newly developed supercar meets the performance demands and is the extreme track version of their Zonda model. During our visit at the factory in the second week of February we had a first look at the new supercar and immediately knew that Pagani had something special up their sleeves.
The central monocoque of the Zonda R is made of a Carbon-Titanium composite, increasing rigidity while reducing significantly the weight. The Mercedes AMG 6.0 litre race derived V12 engine, with 750 hp and 710 Nm of torque is fitted directly to the chassis. A direct throttle actuation via mechanical cable ensures immediate throttle response.
The Xtrac Magnesium gearbox performs gearshifts in less than 20ms. Adjusting settings while driving is possible via the 12-way Bosch Motorsport traction control and ABS system. The Zonda R runs on big Pirelli P Zero rear 335/30/20 tyres and 255/35/19 front rubber.
The 1,070 kg Zonda R will catapult you from 0 to 100 km/h in 2,7 seconds. Top speed lies at 350 km/h. The Brembo carbon ceramic brakes ensure the car comes to a standstill even quicker.
The Zonda R is built in a limited production run of 10 cars and sold at a price tag of 1.460.000 Euro plus taxes.