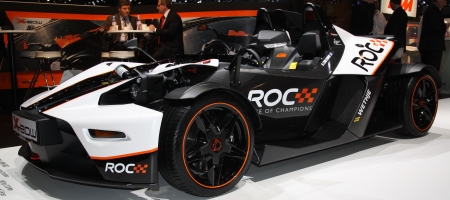 The production version of the KTM X-BOW is celebrating its first birthday. Exactly one year ago, the production version of the KTM X-BOW made its world premiere at the Geneva Motor Show. The 2009 range now includes two new versions of the roadster; the X-BOW Superlight and the limited-edition X-BOW ROC.
Weight reduces performance and detracts from the pleasure of driving. That's why you won't find many of the conventional 'comfort features' in the KTM-X-BOW. The Superlight model is the ultimate step. The new model has added black body panels of visible carbon fibre and comes complete with limited-slip differential, lightweight alloy wheels with a single central wheel nut, lap timer and much, much more.
The ROC model is celebrating its world premiere at the 2009 Geneva Motor Show. Unique details featuring on the series of 30 units include: exclusive ROC design on the body panels and the weight-saving all-carbon body, the sports exhaust, specially painted light-weight alloy wheels with a central wheel nut, adjustable sports suspension and a removable multi-function steering wheel.
Their complete line-up runs from the X-BOW Street (49,980 Euros) to the X-BOW Clubsport (59,980 Euros), to the X-BOW Superlight (79,980 Euros), all the way to the X-BOW ROC (69,980 Euros), while the KTM X-BOW GT4 (82,900 Euros) is the racing machine for the track. In addition, KTM is organising the X-BOW Trophy 2009, offering a RaceOrange programme for customers and prospective customers, and has PowerParts and PowerWear collections at the ready which were created especially for the X-BOW.