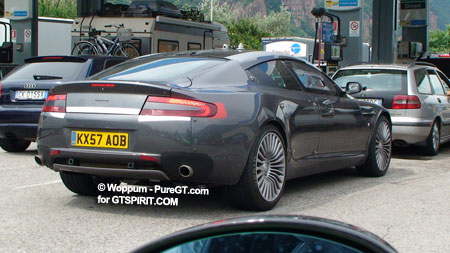 It turns out we were not the only ones to catch an Aston Martin testing in the Alps this weekend. One of our friends on PureGT stumbled upon this Aston Martin Rapide at an Italian petrolstation. The licenseplate suggests it's the same Aston Martin Rapide mule that was filmed while testing on the Nurburgring two months ago.
The V12 version of the Aston Martin Rapide spotted here will have an estimated output of 500 hp or more. The car was totally full of test gear including screens and computers monitoring everything from engine and parts temperatures to performance. A huge pipe is sticking out the front passenger side window which might have something to do with cooling of the V12. There was a big difference in temperatures between the bottom of the mountains and the top, making it ideal circumstances to test all systems in the new Rapide.
Aston Martin DBS Volante
Our friend Woppum also spotted the upcoming Aston Martin DBS Volante. This Aston Martin DBS Volante was also caught testing on the Nurburgring a couple months ago. Reason enough for us to believe Aston Martin took all of their upcoming cars down to the Italian part of the Alps for summertime testing before starting production on the new 2009 lineup.