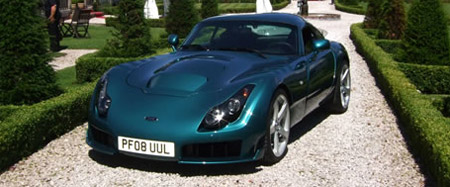 This morning TVR showed their TVR Sagaris 2 prototype and announced plans to start production of the second generation Sagaris later this year. To many this comes as a suprise after production at the UK TVR factory was stopped in october 2006. First sales of the TVR Sagaris 2 are expected as early as 2009.
Changes to the Sagaris include a improved suspension and steering system for better handling. Optical changes include a new bonnet, splitter and 19″ 5-spoke alloys. The interior hosts a new air-conditioning system, new sports seats, new carpets and an updated center console including satnav. The 4.0 liter inline-6 engine from the previous Sagaris is left unchanged and produces 380hp.
First price rumours say the Sagaris 2 will cost €85,000 onwards and the Sagaris 2 will be available in both right-hand drive and left-hand drive versions for the European and Middle Eastern markets.