Finally the day has come: the New York starters and Miami starters meet on the street! Final destination is 'Viva' Las Vegas. Las Vegas (often abbreviated as Vegas) is the most populous city in the state of Nevada, United States, the seat of Clark County, and an internationally known vacation, shopping, entertainment and gambling destination. Today's leg has a lengh of approx 650 km (400 miles) for the Tucson-Vegas leg and 1200 km (750 miles) for the Denver-Vegas leg.
Final checkpoint today is the famous Venetian Resort-Hotel-Casino!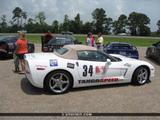 Like the days before # 34 Team Tangospeed / GTspirit is providing us again with the hottest updates from the road! For more updates also visit our Great American Forum!
Update 1:
5.48 pm CET – 9.48 am local time by Des
We left Tucson as 9th car at 8.38 am. Next checkpoint Las Vegas!
Update 2:
7.08 pm CET – 11.08 am local time by Des
We just hit Phoenix. Overtook the car that left 8 minutes before us. And several others took a different route out of Tucson and are also behind us.
Update 3:
7.26 pm CET – 11.26 am local time by Des
After 4 days on the I-10 we're finally onto something differnt! If we can keep a good pace over the next few hours, we might detour to the Grand Canyon.
Update 4:
9.43 pm CET – 1.43 pm local time by Des
We drove down the US – 60 without any problems. On the US – 93 the SRT8 guys (#6) caught up with us and played a little prank with us pretending their car broke down by putting a firecracker under the car. When they pulled back into the road they nearly got hit by a huge truck, that was travelling up the hill with 75-80 mpg. The truck left a huge skidmark on the road and nearly missed them. We are driving on the I-40 now and are about 120 miles out of Vegas. We'll make a quick stop at the Hover Dam before going to the checkpoint.
Update 5:
10.52 pm CET – 1.52 pm local time by Des
Team GTspirit/Tangospeed just reached the Hover Dam.
Update 6:
10.59 pm CET – 1.59 pm local time by Des
Team 6 and 34 pulled in first and second at the unofficial checkpoint at the Hover Dam at 1.45 pm local time.
Update 7:
11.19 pm CET – 2.19 pm local time by Des
The new M5 and Range Rover pulled in about 15 minutes after us. Now on to Vegas!
Update 8:
11.27 pm CET – 2.27 pm local time by Des
Team 6 just got stopped in Boulder City for doing 'something illegal' right in front of us :-) Sweet revenge!
Update 9:
11.49 pm CET – 2.49 pm local time by Des
We are at 7- Eleven to fill up the car and then head for the checkpoint. Looks like it's raining in Vegas :-/
Update 10:
00.16 am CET – 3.16 pm local time by Des
Our finish checkpoint is at Eurotech Motoring at West Patrick Lane. Tonight we will have dinner at the world's top restaurant at the 'Stratosphere'.
Update 11:
by HeCe
Team arrived Vegas at second place, just seconds after Team 6 Scott and Eric. Best driving day so far, we are just few ,0 behind winning the Saleen. Lets see what happens.