When perfect design meets powerful performance and breathtaking curves unite with race-car engine performance, you have arrived. You have arrived in the world of Lorinser. Individualists with discriminating taste will find what they are looking for: style and lifestyle expressed in unique automobiles. Automobiles that live up to the highest standards.
Our corporate philosophy is "Perfecting what is already precious."
For this I vouch with my name.
Yours Marcus Lorinser
Contact Information & Sales:
Autohaus Lorinser GmbH & Co. KG
Alte Bundesstraße 45

71332 Waiblingen
Phone: +49 7151 136-0
Fax: +49 7151 136-2880
E-Mail: [email protected]
How to reach Lorinser:
Social media and YouTube
Latest Lorinser News:
Lorinser was part of a special about SUVs in a Japanese magazine.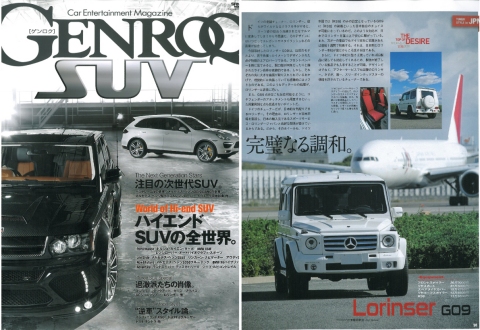 Listen to the sound files of the exhaust systems fitted to the new Mercedes-Benz CLS 350 CGI, E500 W212 and G500 W463. The Lorinser exhaust systems are persuading in sound, optic and quality.
Sound file Lorinser Mercedes-Benz CLS 350 CGI exhaust
Sound file Lorinser Mercedes-Benz E500 W212 exhaust
Sound file Lorinser Mercedes-Benz G500 W463 exhaust
For more about Lorinser models and products visit our Lorinser news channel!
About Lorinser:
The Lorinser Sports Service brand has gained a world-wide reputation and, at present, operates with dealerships in 42 different countries. The Lorinser brand stands for individuality and excitement in the world of automobiles as well as innovation, design, and technical high performance that is sure to guarantee customer satisfaction. Thanks to its exceptional reputation, Lorinser Sports Service was able to attract a great number of celebrity customers from the areas of sports and show business including Bernie Ecclestone, Niki Lauda, Alain Prost, Paul Tracy, Shaquille O'Neal, Denzel Washington, Sharon Stone, and Arnold Schwarzenegger – to name only a few. As a member of the second Lorinser generation, Marcus Lorinser has been in charge of running the company and continuing its success since 2006.
With its various dealerships in 42 countries around the world, the Lorinser Group ranks among the most well-known brands in the automobile tuning industry. Its key sales markets are Europe, the USA, Japan, and China. That said, an increasing number of Lorinser enthusiasts can be found in Russia and the Ukraine as well as in the United Arab Emirates, Dubai, Kuwait, and Saudi Arabia.
Lorinser is specialized in tuning and modification for the Mercedes-Benz CLS, CL, SL, C-class, E-class and S-class. And also offers packages for the Smart forTwo. Lorinser also has a range of exclusive wheels of which the RS9, RS8 and RSK6 are the current signature wheels.
For more information about Lorinser Tuning for Mercedes-Benz please contact the head office in Waiblingen, Germany:
Lorinser
Phone: +49 7151 136-0
Fax: +49 7151 136-2880
E-Mail: [email protected]
Web: http://www.sportservice.lorinser.com