Even if it may have morphed into a lifestyle accessory: The Geländewagen by Mercedes-Benz represents the off-road vehicle par excellence. And that is just as true for second generation of the vehicle which launched in 2018 and- somewhat misleadingly – still carries the internal code W463.
Initially shown with V8 petrol engines, it is also available with a 2.9-liter straight-six diesel – as the G350d with 286 horsepower and the G400d with 340 horsepower. But the more powerful diesel requires a costly package called "Stronger than time Edition" – we'd stick to the G350d, which is almost 40 000 euros cheaper and manages to stay under the 100K mark.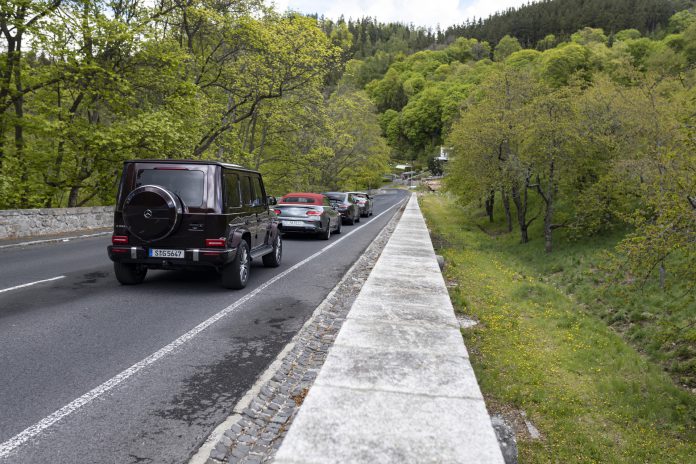 Some might argue that a diesel-powered G is the quintessential Geländewagen: It is all about torque, reliability and efficiency – as opposed to the V8 models' aural and visual demonstration of absolute superiority. In fact, sound differentiates these engines even more than performance: While the V-8 emits an angry growl, the diesel engine is barely audible inside, while bystanders outside are exposed to a subdued diesel purr.
With its 286 horsepower and 600 Nm of torque, the entry-level turbodiesel pulls the 2.5-ton behemoth to 100 kph in a mere 7.4 seconds; top speed is governed at 199 kph. While the G350d's performance is more than satisfactory, its drinking habits are surprisingly modest.
In the official cycle, it consumes a mere 9.6 litres per 100 kilometers, and even with a heavy foot on the pedal, you will typically not exceed 11 to 12 liters. That's better than the V8-powered gasoline versions on paper… and far better in real life. The power is channeled to all four wheels through Benz's own 9-speed torque-converter-style automatic.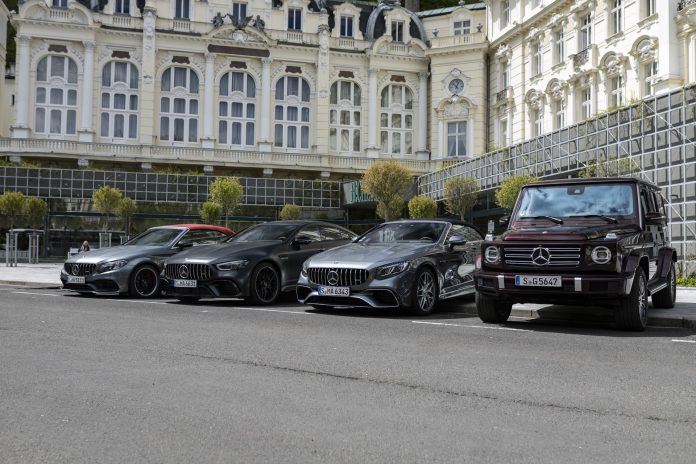 Unlike the previous-generation Geländewagen, the new model is absolutely stable at high speeds, its steering is precise, and comfort is exemplary even on long trips. And despite its altogether undesirable aerodynamic characteristics, the cabin is well-isolated and quiet.
The improvements in on-road performance do not come at the cost of off-road capability – at all. In fact, the development team under Gunnar Güthenke has increased the lead that the predecessor held over its competition. With its extreme low-range transfer case, differential locks on both axles and a clutch that can be locked in the center differential, the new Geländewagen can go even further than its military-approved predecessor. And it will simply run circles around a Jeep Wrangler or Toyota Land Cruiser. Towing capability is rated at 3500 kilograms.
In standard spec, the G350d actually displays a distinct look: Devoid of excessive chrome and standing on 18-inch wheels, it looks purposeful and ready for business. However, we expect most customers to opt for 19- or 20-.inch wheels and further visual enhancements, which include aluminium trim, LED headlights and an AMG Line package.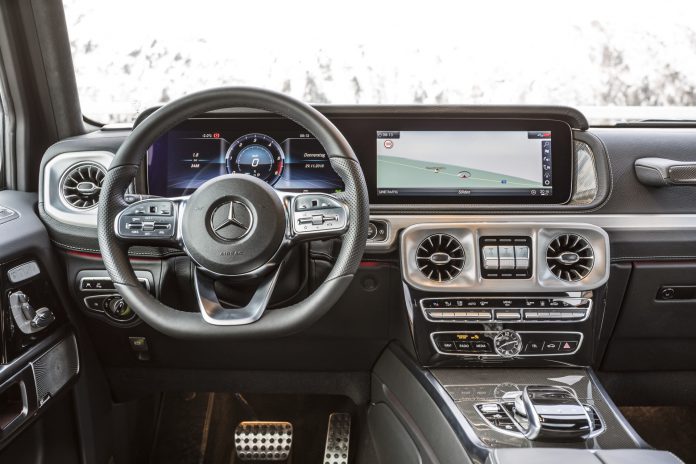 Inside, leather seats and bright aluminum trim are standard, underscoring that the G350d is by no means a replacement for the frugal "Professional" series that Mercedes-Benz offered on the predecessor.

While the G350d is attractively priced at just under 100,000 euro, the G500, with its monster V8 and 422 horsepower, is not that much more expensive at 110,000 euro. And so it comes down to a matter of taste: To acquire a tough work tool, or if fuel consumption matters, we recommend the diesel. If you love the menacing bass of the V-8 and are willing to pay nearly twice the cost of fuel for it, go for the G500. We wouldn't blame you either way.