Concours events sit in a league of their own – across the globe, from the gorgeous manicured lawns of Pebble Beach, to the shade of the Burj Al-Arab, concours events are an extravagant affair. They allow owners to display their pride and joy for enthusiasts and fellow owners to ogle and drool over cars so rare that that they will be recorded in the history books for generations to come to look back upon. It's not just the United States or United Arab Emirates, but, the United Kingdom too that hosts a plethora of events that draw international crowds draped in jewellery and their finest garments to fit in with the well heeled and famous.
Me being me, I tend to rock up to such events in a pair of jeans, standard issue GTspirit.com polo and my hefty Nikon over my shoulder – I'm here to work, not to sip champagne, sunbathe and saunter with the rich. This years Salon Prive Cours d'Elegance was, however, a little different. I would not be rolling in my cute BMW, but a blindingly fast and desperately stunning McLaren 720S courtesy of my good friends based in Woking.
McLaren 720S at Salon Privé - Zaid H
The keen eyed amongst you would notice that this is a car I have memories with. Indeed, this Lantana Purple example is the very car I drove to Paris earlier on in the year with an estranged acquaintance to have a picnic on the banks of the Seine – there would be no mega roadtrips this time. Blenheim Palace, the birthplace of Winston Churchill, is the venue for Salon Privé and is a two hour drive on the motorway from London. Companion on board, it was time to grace the palace with our presence.
As it had done on the French autoroute, the 720S ate up the miles with unflappable poise and effortlessness. A quick stop for a McDonald's breakfast and a Starbucks double espresso behind us, signs that we were nearing the event were in abundance. A GT3 and GT3 Touring filled each side mirror, joining us in convoy – this is how you make an entrance.
Supercar Parking at Salon Privé - Zaid H
Trundling down the majestic drive towards the palace walls in usually a grand affair. Today, the green pastures flanking the road was littered with supercars making it even more of an occasion.
Having caused a scene and carefully maneuvered the purple beast onto the green, it was time to see what the main event was about. This year's layout was a little different allowing for the main concours space to be larger than ever before. It only seemed fitting to start at McLaren – this year the McLaren Birmingham and Bristol dealers of the Rybrook franchise were manning to fort with a stunning orange 720S and blue 570S. Along side were two incredible McLaren Special Operations cars – a 570GT from the MSO Black Collection and a 720S 'Velocity' with its striking red finish.
Following the lobster lunch, always a pleasure, there was time to have a quick look around the rest of the show. Porsche continued their 70th Anniversary celebration with lashings of stunning cars including a spattering of RS models, old and new, a couple of 918s and a 991 GT2 RS finished in red. The people's choice and Pirelli best in show winner was the dramatic Pagani Zonda Oliver that sat beside the Porsches looking as inconspicuous as Lady Gaga's meat dress would at a funeral.
Another key highlight was the premiere of the Lamborghini Aventador SVJ that was presented a few days earlier and on display over the weekend. The new king of the 'Ring was shown in matte green, alarmingly similar to that of the AMG GT R's..awkward. The usual suspects such as the Bugatti Chiron, Brabham BT62, a gaggle of Ferrari F40s and Enzos made for spectacular viewing…and drooling.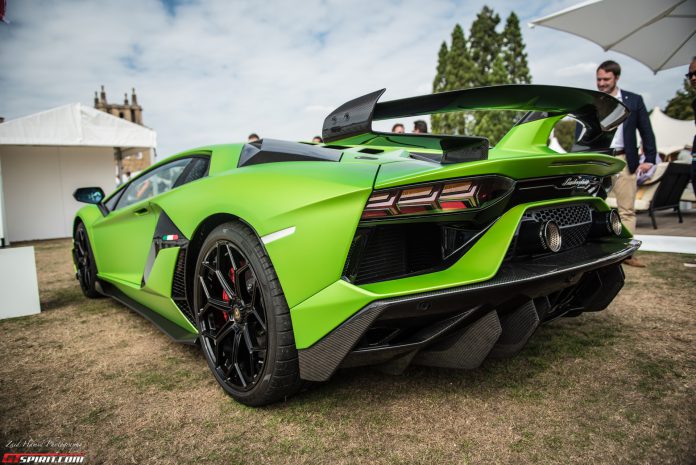 Following a parade around the jaw dropping ground and lake, where visitors of the palace all stopped and stared in awe, it was time to refuel the Big Mac and head home to yet another emotional goodbye. Who knows, maybe we will see each other again…