Volvo has really stepped up their game in the last few years. Each new Volvo we've driven recently has impressed us and the new XC-60 is no exception. Luxurious, efficient, and capable, this Swedish SUV provides everything a driver or passenger could want. We recently spent some time driving the top-end AWD Insignia edition, which offers very good performance and thoughtful design.
The new exterior design looks fantastic. It has a modern and masculine look to it, like a lean, fit boxer in an expensive suit – very sleek and stylish and very capable. The body panels are sculpted with provocative cuts and complex shapes that draw your eye. Tastefully decorative chrome accents abound. Overall, it's a very refined design and a vast improvement over the previous iteration of the XC-60.
However, it's the interior that will win you over. It's beautiful. You're greeted with light and dark soft leathers, sanded woods, chrome accents, and other natural materials. The seats are incredibly comfortable, adjustable in nearly every way, including thigh support. Our car had the optional massage seats, which when combined with seat heaters on a cold evening drive home, helped us arrive completely relaxed. A panoramic sunroof fills the XC-60 with natural light, but also offers an electrically operated sunshade to block it off. Even the back seats were heated and had their own heat and a/c controls for passengers. Legroom in back was decent – not too tight but not limo-like either. The rear seats fold almost flat, giving it lots of carrying capacity. It's very quiet inside when driving. Great effort was put into reducing noise, vibration, and harshness and it's a very pleasant and welcoming environment in which to travel.
2018 Volvo CX-60 AWD Insignia Edition
Volvo's 12.3" touchscreen sits above the center console and is the heart of the XC-60's cockpit. It's scrollable up, down, and left and right. It's very intuitive and easy to use and has a very minimalist Scandinavian design to it that made it's usage very simple and straightforward and clear.
Under the hoods lies Volvo's fantastic T6 engine, a smooth direct-injected dual-charged 2.0L I-4, hooked up to their great 8-speed automatic, the XC-60 provides both great power and fuel efficiency. It makes 316 hp and 295 lb-ft of torque, yet gets 27mpg on the highway and 21 mpg in the city. Power is instantaneous and always present. It feels like a small V8, which is impressive. The power level is perfect for this vehicle. We never felt that we needed more power the entire week we had it. The engine is smooth and incredibly torquey. Shifts were smooth and often imperceptible unless you were really winding it out. And it has a pleasant growl when you really push it. The only real issue we had with it was the extremely sensitive throttle. Modulation of the throttle was a bit more difficult than some competitors but smoothness comes with experience. It feels a bit jerky until you learn to be smooth with it.
The XC-60 has Volvo's unique ride control selector in the center console. It looks like a chrome cylindrical roller. Touching it opens the ride control program on the touchscreen. The driver can then roll up or down the list to select whatever ride mode they'd like. Choices are Eco, Comfort, Off-Road, Dynamic, and Individual. As you can guess, Eco does it's best to keep fuel efficiency a priority. Comfort is the default setting. To select Off-Road, the car must be stationary. Selecting it raises the XC-60 a few inches higher than it normally sits, providing more ground clearance. Dynamic sharpens the reflexes of the engine, the transmission, and to some extent the suspension. The Individual setting allows you to mix and match various attributes to create your own preferred balance of ride control inputs.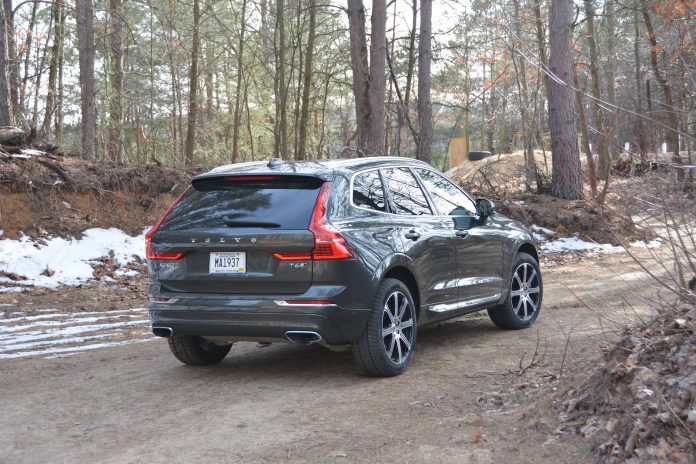 The suspension is an air-bag type, which is how the vehicle is able to rise up in Off-Road mode. The ride is generally well-composed with responsive handling, although there's a bit more jounce over bumps than we'd like and a bit of wobble at times. It's minimal but you will notice it. It handles very well, zipping through corners with ease.
It rides on stylish 20" wheels with spokes spaced far enough apart to enjoy a view of the large brakes. The brakes do a fantastic job of stopping the mid-sized SUV. In fact, in conjunction with the electronic sensors, it saved my hide one morning on the drive in. It was early, I was tired yet, and driving through a busy and distracting road construction project when a car up ahead suddenly stopped on the freeway to pull off into the construction worker's parking lot. I hadn't fully realized it yet but the front radar alerted me and, seeing him stopped, I nailed the brakes, stopping the XC-60 in time. Then, as traffic came roaring up behind me, the T6 engine and the AWD system were able to launch me away from the scene so no one could run into the back of me. If I liked the XC-60 before that moment, I loved it afterwards.
The XC-60's price starts at $40,100 USD. With the Insignia Package and several other technology and convenience packages that we now can't live without, ours was priced around$65,000 USD and it easily felt worth it. It's a smart, competent SUV that does everything right while taking good care of it's passengers.
Ratings:
Performance: 7.0/10
Handling: 7.0/10
Design: 8.0/10
Interior: 8.5/10
Sound: 6.0/10
Fun: 6.0/10