If you are an automotive attention seeker, there is hardly a better car than the BMW i8. It comes from a performance brand and it features absolute supercar proportions. Moreover, it brings "green" credentials: The i8 is a hybrid.
Almost five years after the original model was launched, the i8 gets a slight facelift – and a roadster derivative that looks even more extreme. It keeps the spectacular scissor doors, re-engineered for this body variation, but it loses the rear seats – and thus, the roofline is lower than on the coupe. The fabric top can be raised or lowered in 15 seconds, at up to 50 kph.
The BMW i8 always looked like a supercar, but it didn't exactly perform like one. Now it gets slightly more power and battery range. Fitted with a 1.5-liter three-cylinder engine and an electric motor, it makes 374 horsepower, which translates into a 0-100 kph acceleration of 4.6 seconds and a top speed of 250 kph (which it struggled to maintain on inclines).
The upgraded E-motor and batteries make a noticeable difference. Much needed for extra boost, electric power is available much longer and more forcefully. If you like the sensation of driving around in a silent supercar, you will appreciate the improved electric range: You can now get beyond 50 kilometers without recharging or firing up the gasoline engine (which, by the way, still doesn't sound great).
You can choose between fully electric mode, hybrid mode – and sport mode, which keeps the gasoline engine on uninterruped. Fuel consumption is rated at 2.0 litres per 100 kilometers in the European cycle, a figure that can justifiably be categorized as "fake news": It is generated in a cycle devised by politicians in order to bias the market towards electrics and electrified vehicles. Real-life consumption is close to regular sports cars, with the efficiency boost by the electric components partially offset by their sheer weight.
Handling has improved considerably; at launch, the i8 was an understeerer, but handling s now neutral. The steering is precise and effortless, brake feel could be better. But with its low center of gravity, the i8 Roadster is great fun to drive on twisty roads anyway.
You will like the interior, which is easy to get into and out of. The dashboard still looks modern, although it has lost its edge over the competition. There are new colors inside and outside, and BMW has added new, ultra-light 20-inch alloys. Storage behind the seats and under the rear hood means you can easily take the i8 Roadster on an extended trip without cutting back on luggage excessively. It would be nice, by the way, if the side windows could be opened all the way.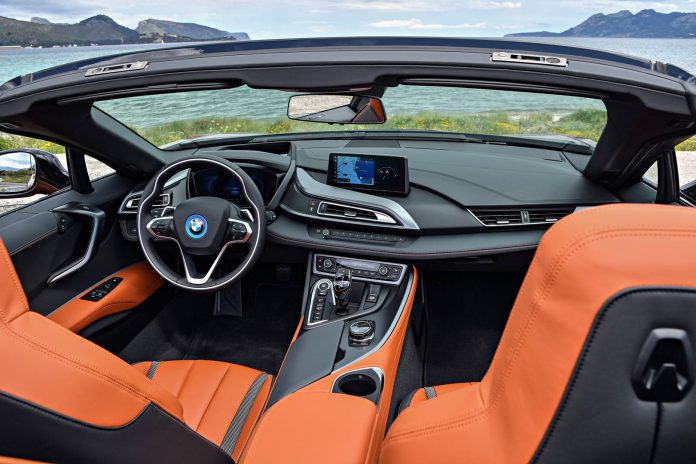 On its German homemarket, the facelifted i8 will set you back EUR 138 000, while the Roadster costs EUR 155 000. If you care about driving, you might want to check out the Honda NSX as well. It costs another EUR 30 000 or so, and its hybridisation, devoid of the BMW's plug-in capability, serves the purpose of ultimate performance. The BMW, on the other hand, will let you cruise along on electricity for a mauch longer distance. It's a different concept, but BMW's has worked rather well for them. The roadster version will only enhance its appeal.