McLaren Automotive unveiled a design concept earlier today, in partnership with Playstation 4 video game Gran Turismo Sport. The McLaren Ultimate Vision Gran Turismo car will feature exclusively in the new video game.
McLaren follows in the footsteps of other manufacturers such as Mercedes-AMG and Bugatti who have penned exclusive designs for the video game franchise.
The design brief was to create a visionary GT car for use in the game. McLaren delivered with a carbon fibre, active aero, 1,150 horsepower hybrid monster. What's more, it features the central driving position from the legendary McLaren F1.
McLaren Ultimate Vision Gran Turismo
It's important to point out that the car you see here is not a prototype for any future McLaren model. It is pure fantasy, a loose interpretation of the type of car McLaren could be producing beyond 2030. Unlike production cars, Gran Turismo cars are unburdened by constraints, allowing McLaren to push the boundaries of design.
The Ultimate Vision Gran Turismo will be available in three liveries: Performance, Ulterior and Noir. It has a virtual kerb weight of just 1,000 kg, a twin-turbocharged V8 engine and high output electric motors housed in the front wheel pods. In the game, the car will manage 1,150 PS and 1,275 Nm of torque through an all-wheel drive unit.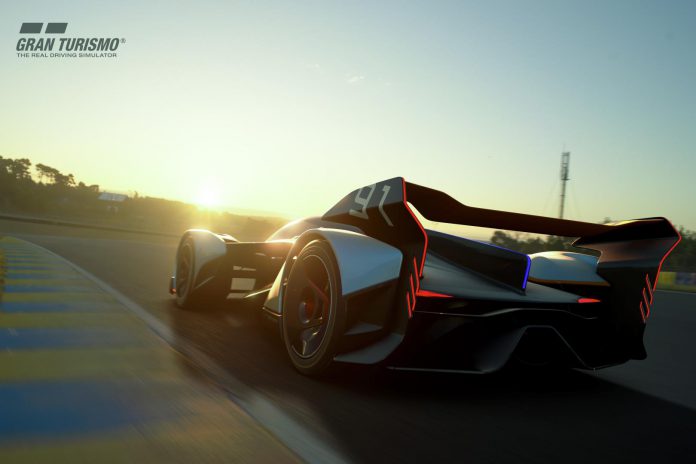 Rob Melville, Design Director, McLaren Automotive said; "We wanted to break new ground and to innovate and the McLaren Ultimate Vision Gran Turismo does exactly that. It puts the driver absolutely at the centre of the action, delivering a sensory overload with incredible sound and awe-inspiring acceleration. From the game player's point of view, the driving experience in this car will be like nothing else: the amazing glass cockpit and the motorcycle-like driving position – with your head far forward, almost right above the front axle – combine to allow you to see exactly where the apex of the corner is so you can shave vital milliseconds off each lap.More than anything though, the McLaren Ultimate Vision Gran Turismo is a stunning looking car. The design form communicates exactly what the car's mission is and what its intentions are: it's the ultimate expression of the McLaren design pillars and principles we have already established, futured into the 2030s."
Gran Turismo Sport will be available from 17 October. 17 circuits and various McLaren models will be available on the virtual racing platform.