At the 2017 Frankfurt Motor Show Audi pulled the veil off their new RS4 Avant. A car that does it all, and checks almost all the boxes for a sportive cruiser. It's spacious, agile, fast, and alluring – but how exactly has Audi approached the formula for the RS4 Avant this time?
Let's start with the biggest selling point of the car: the powerhouse under the hood. A 2.9 litre twin-turbo V6 from the RS5 Coupe is good for 450hp and 600 Nm of torque, making it the sporty vanguard of the A4 family. The standard quattro drive distributes the power of the V6 bi-turbo to all four wheels, with the use of an eight-speed tiptronic automatic, allowing the car to do the 0-100 km/h sprint in merely 4.1 seconds. The top speed is electronically limited at 250 km/h, but the optional RS dynamic package will keep the fun going up until 280 km/h.
"The Audi RS 4 Avant is our RS icon with an incomparable history," commented Stephan Winkelmann, Managing Director of Audi Sport GmbH. "In common with all our RS models, it blends immense power output with superlative everyday utility. In China, the Audi RS 4 will provide fresh impetus for growth as the only high-performance Avant in its segment."
On the exterior Audi hasn't slacked either. The RS4 Avant pulls out all the stops to be as aerodynamic and sleek as possible, whilst still maintaining a graceful design. The result is stunning: the wheel arches have been widened, huge air inlets and carbon fibre sills have been placed on the front, an aggressive diffuser with unmistakable RS tailpipes shape the rear, together with an extended roof spoiler. The front and rear lights have also been revised to give the car a sharper look.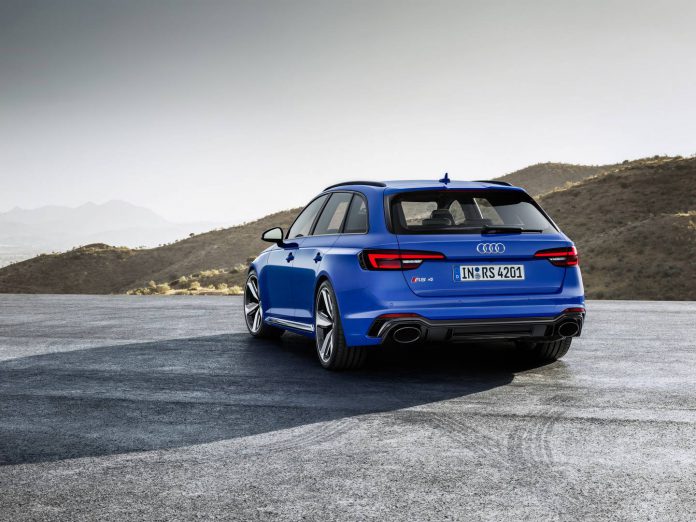 On the inside it is business as usual with Audi, meaning that there is absolutely no deficiency in comfort or design. The engine bay may house a brute engine, but the interior makes little concessions and keeps the driver satisfied with all the amenities and options you could expect from a modern sports car. Surfaces can be cloaked in carbon fibre or leather, the seats can be fitted with a honeycomb pattern, and the Audi exclusive program covers just about any other special request.
The Audi RS 4 Avant can be ordered from the fall onward, before arriving at dealers in Germany and other European countries from the start of 2018. The basic price will be € 79,800.