As expected, BMW unveiled their Z4 Concept last night at Monterey Car Week. The announcement took place at the Lodge at Pebble Beach Concours d'Elegance Reviewing Stand with the BMW Concept 8 Series we first saw at the Concorso d'Eleganza Villa d'Este in May standing alongside.
The Z4 is said to be close to the actual production version of the third generation roadster, due to be unveiled next year! It is also expected to form the basis of a new Toyota Supra to arrive some time in the next two years.
The new Z4 is certainly distinctive with a dynamic-looking front, striking flanks and a clean-cut tail end. It is a classic two-seater roadster with a long wheelbase, low-slung silhouette and a compact rear end. The bonnet is shorter and the overhangs more compact. The driver sits closer to the centre of the car than in previous generations.
The front facia re-interprets BMW's classic four-eyed headlight look, with two overlapping tubes on each side. Turn signal indicators point diagonally towards the kidneys from above. The clamshell bonnet with curves over the wheels, much like the Jaguar F-Type, creating a seamless sweep over the front end as a whole. Instead of BMW's trademark vertical bars, the kidney grille features an elaborately designed mesh.
The colour applied to the BMW Z4 Concept is called frozen Energetic Orange, designed to showcase the contrasts of light and shade in the surfacing. The concept sits on bi-colour, double-spoke 20-inch lightweight alloy wheels.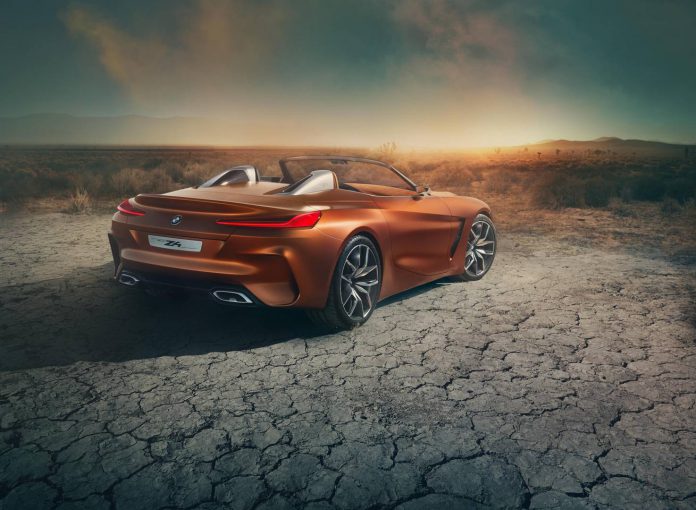 Inside, the driver's seat as well as the door trim panels, instrument panel and centre stack are finished in black. Infotainment includes the instrument cluster and central information display which are positioned at almost the same height and in close proximity. It is a relatively stark affair inside with controls grouped into "function islands" with polished chrome accents and hexagonal laser-cut motifs in the seats.
There is no official word on what powers the Concept, although once it hits production trim, expect the usual BMW engine options. One rumour which hasn't been discounted (as far as we are aware) is a petrol-electric version of BMW's four-cylinder turbocharged petrol engine. Hopefully this generation will also see an M Performance option!
The unveiling also gave us a taste of what to expect for BMW over the weekend. The BMW Concept 8 Series will be shown publicly at The Quail, A Motorsports Gathering today and on the Concept Lawn at the Pebble Beach Concours d'Elegance on Sunday. The BMW Concept Z4 Roadster will be publically shown on the Concept Lawn of the Pebble Beach Concours d'Elegance on Sunday. BMW will also run two classic race cars in the Rolex Monterey Motorsports Reunion this year.